Robert William
Aug 15, 2023
Extendable Dining Tables: Functional Elegance
Upgrade your dining space with highly versatile and chic extendable tables. Dive in for the latest designs and buying tips.
Extendable Dining Tables: Marrying Function with Elegance

Introduction
The modern extendable dining table is not just a functional piece of furniture; it stands as an embodiment of adaptability in design. As urban spaces get increasingly compact, having furniture that can adjust to varying needs becomes paramount.

The Evolution of the Dining Experience
The dining table has always been a centerpiece in homes, a place of gathering, celebration, and sometimes, even deep discussions. Over the years, its form has evolved to fit the changing dynamics of urban living. The extendable dining table, with its ability to adapt, embodies this evolution, ensuring we don't compromise on space or style.

Why Opt for an Extendable Dining Table?
These tables encapsulate the essence of modern living, offering maximum flexibility.

Maximize Space
Especially crucial for studio apartments or homes with open floor plans. Their ability to retract or expand based on need ensures efficient use of space.

Showcase Versatility
Whether it's a quiet dinner for two or a family gathering, these tables can adjust to the occasion.

Choose Your Aesthetics
Designs range from minimalist Scandi styles to intricate, ensuring there's a table for every taste.

Diving Deeper into the Types of Modern Extendable Tables
Drop-leaf Tables
Butterfly Leaf Tables
Center Extension Table
Self Storing Leaves
Care
Summary
Drop-leaf Tables
Rooted in tradition, these tables resonate with a vintage charm. They are ideal for rooms where space is premium.
A drop-leaf table is a type of furniture that features hinged sections, known as "leaves," on either side of the tabletop. These leaves can be folded down when not in use, allowing the table to be compact and take up less space.

When you need more surface area, you can simply lift the leaves, creating an expanded tabletop. This design is particularly useful for smaller spaces where versatility and space-saving are important factors.

Drop-leaf tables can come in various styles, sizes, and materials, making them a popular choice for dining rooms, kitchens, and other areas where space optimization is desired
Butterfly Leaf
Versatility, meet convenience.
The butterfly leaf table is a clever solution for those seeking flexibility without compromising on style. With a design reminiscent of a butterfly's wings, this table type boasts a hidden self-storing leaf that effortlessly transforms it from an everyday dining space to an expansive gathering hub.

When not in use, the leaf elegantly folds and tucks beneath the table's surface, maintaining a streamlined look that's perfect for smaller spaces. When extended, the butterfly leaf unfolds, providing additional seating capacity without the need for extra storage space.

Embrace the marriage of form and function with a butterfly leaf table – where versatility meets convenience in a single, graceful design.
Center Extension Table

Center extension tables are valued for their convenience and ability to quickly adapt to different numbers of guests during gatherings or meals.
The center extension table represents a functional solution for those seeking flexibility in their dining setup. With this design, the table can be easily extended by pulling apart its ends and inserting a leaf in the center. This straightforward mechanism allows you to swiftly adjust the table's size to accommodate varying numbers of guests. The center extension table's design emphasizes practicality and adaptability, making it a suitable choice for gatherings and events of different scales. Its ability to seamlessly transition from a compact piece to a more spacious dining surface underscores its utility in modern living spaces.
Self Storing Leaves
Center extension tables epitomize convenience and quickly adapt to different numbers of guests during gatherings.
Experience the essence of convenience and space optimization with self-storing leaves in dining tables. This innovative feature eliminates the need for external storage for extension leaves. Seamlessly integrated into the table's design, these leaves can be neatly tucked away when not in use, preserving the table's aesthetic while offering a clutter-free solution.

With a simple pull and unfold, self-storing leaves effortlessly extend the table's surface to accommodate extra guests.

Embrace a minimalist approach to hosting and dining with self-storing leaves, where practicality meets understated elegance.
Top 3 Best Modern Extendable Tables
Liquid error (sections/pf-5ace81bd line 89): product form must be given a product
The Vista
Life is full of surprises, and our Vista Mid Century Modern Dining Table is here to adapt to them all. Its extendable feature allows you to effortlessly transform it from an intimate gathering spot to a grand feast centerpiece. Simply slide out the hidden leaf, and voila! You have extra space to accommodate additional guests.

Handcrafted with a keen eye for design, this table seamlessly merges mid-century aesthetics with modern sensibilities. The result is a versatile piece that effortlessly complements any decor style. Whether your home boasts a cozy farmhouse charm or a sleek contemporary look, our dining table will be the perfect addition, tying the whole room together.
The Santa Monica
Classic MCM lines, married with crisp modern details in your choice of solid American hardwood. Our extension table combines timeless beauty, skilled craftmanship, high-grade hardwoods and a seamless design, giving you a dining table capable of being as large or as small as you need.

The leaf (or leaves) is designed to drop into place, and held securely with hidden latches on each side which eliminates gaps and grain pattern interruption found on many other extension table designs. Available in a variety of configurations, you can be confident you are choosing an heirloom table that will last for decades of gatherings!
The Compagno
The Compagno Extendable Dining Table is a splendid fusion of modern design and exceptional craftsmanship, brought to life by Moderncre8ve. More than a mere dining table, it offers a canvas for a myriad of dining experiences, reflecting your refined taste.

Designed with an emphasis on honest materials and thoughtful design, the Compagno's sleek, modern lines and extendable feature elevate dining from mundane to extraordinary, accommodating everything from cozy dinners to grand celebrations with ease.
How To Care for Your Table
Maintaining Slider Hardware
The slider hardware is the heart of your extendable dining table, allowing it to smoothly expand and retract. Regular maintenance of this mechanism is paramount. Begin by clearing any debris from the tracks to prevent obstruction. Wipe down the tracks and sliders with a dry, lint-free cloth to remove dust and grime. Periodically, apply a silicone-based lubricant to ensure effortless movement. Remember, the longevity of your extendable dining table heavily depends on the health of its slider hardware.
Wood Care and Protection
Wood surfaces on your extendable dining table demand special attention. For routine cleaning, use Lareaux's furniture wax to gently wipe down the table's surface. Always opt for a dry, soft cloth to avoid scratching. To protect the wood against heat and moisture, use coasters and placemats, especially during mealtime. Applying a high-quality furniture wax like our custom wax or natural based wood product every few months not only enhances the wood's natural beauty, but also adds an extra layer of protection against scratches.
Extending and Retracting with Care
The process of extending and retracting your table requires careful handling. When extending, ensure there's ample clearance around the table to prevent collisions. Avoid placing excessive weight on the extended portion, as it can strain the slider hardware. When retracting, make sure the table is fully aligned before gently pushing it back into its compact form. Avoid sudden jerks or uneven pressure to maintain the smooth functionality of the extendable mechanism.
Stability Checks & Inspections
Regular inspections are your proactive defense against potential issues. Check for any loose joints, wobbly legs, or signs of wear. Tighten screws and bolts as needed to maintain stability. Additionally, examine the extended portion's support to ensure it remains secure and level. By addressing minor concerns promptly, you prevent them from escalating into major problems that could compromise the functionality and aesthetics of your extendable dining table.
Fun Facts About Extendable Tables
Origins of Adaptability
Extendable dining tables have a rich history dating back to the 16th century. Craftsmen of that era devised innovative designs that addressed the spatial constraints of their time. The earliest extendable tables often featured drop-leaf or gateleg designs, allowing homeowners to expand their dining surfaces when needed. This early ingenuity laid the foundation for the adaptable tables we know today.
Ingenious Extension Mechanism
The mechanism behind modern extendable tables is a marvel of engineering. Often utilizing ball-bearing glides and telescopic rails, these mechanisms ensure a seamless extension of the table's surface. Some tables even include self-storing leaves, eliminating the need for extra storage space. Precision engineering guarantees that the extended sections align flawlessly with the main table, creating a stable and comfortable dining experience.
Materials and Aesthetic Variety
Extendable dining tables cater to a diverse range of preferences with their materials and designs. While wood remains a classic choice, modern tables also incorporate materials like glass, metal, and composite materials. What's intriguing is how these materials are integrated to maintain structural integrity and aesthetic appeal. This thoughtful fusion of materials allows homeowners to express their style without compromising on functionality.
Finally: Form Marries Function
Born out of the need to maximize space over five centuries ago, extendable dining tables have evolved into one of the most versatile settings of modern living. Whether you're hosting a dinner party or enjoying a cozy meal for two, your extendable dining table stands as a symbol of adaptability, functional elegance, and the stories shared around it.

Keep in mind that an extendable dining table is more than just a piece of furniture – it's a practical solution to the ever-changing dynamics of family life. It's a smart way to ensure you have ample space for cozy family dinners on regular days, while also effortlessly accommodating larger gatherings when relatives or friends come over. As they adapt to your personal needs, they're not just furniture; they're an extension of your aesthetic.

People Also Read
Markus James | Sep 11, 2023
Dive into the unique traits of Scandinavian and Mid-Century Modern designs and discover easy-to-follow tips on how to blend them together for a cozy, stylish home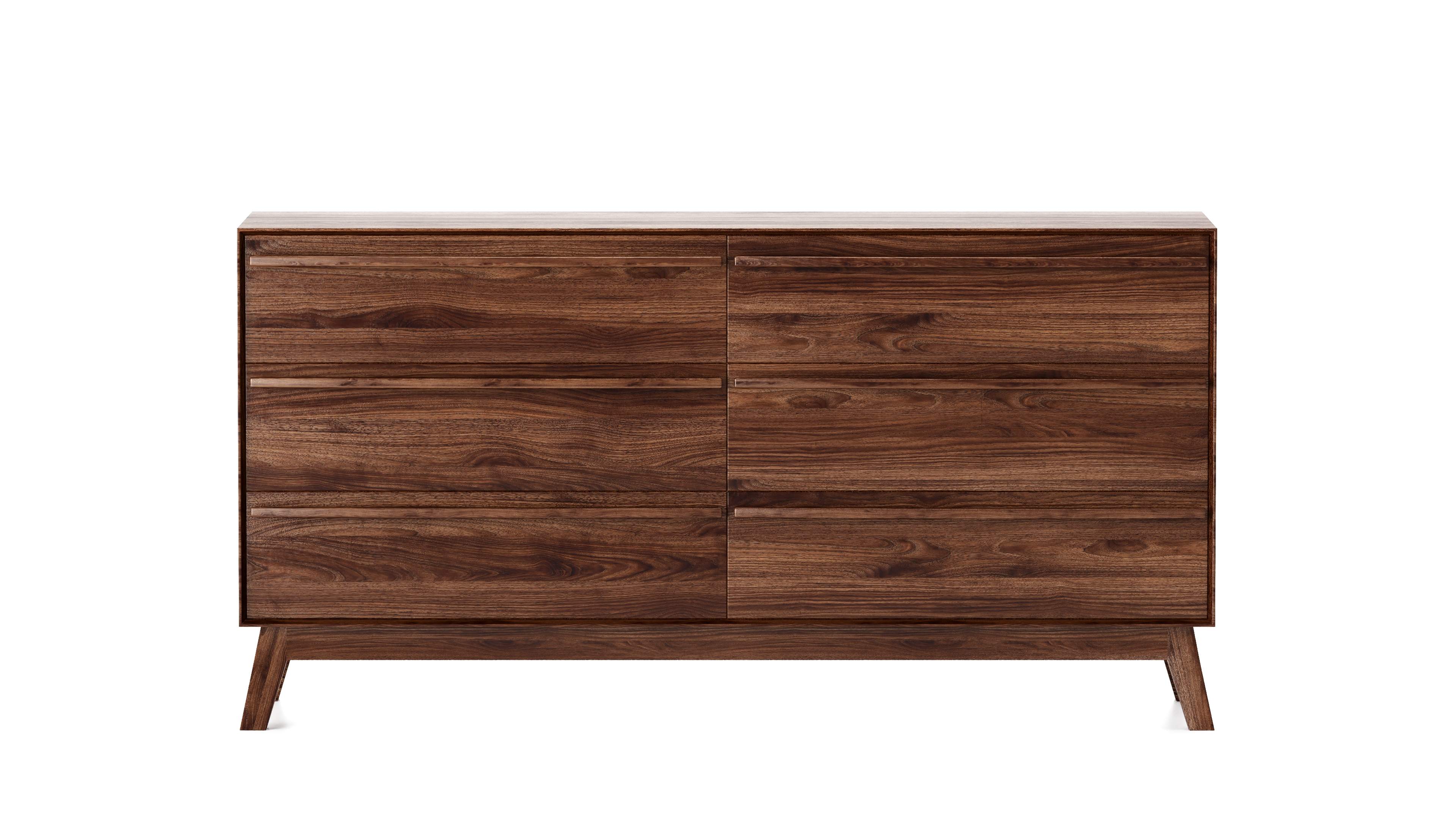 Markus James | Sep 04, 2023
Eric Bravner | Sep 04, 2023
Have Any Questions?
We are here to answer all of your questions!
Follow us on social media