Blog
The Ultimate Guide to a Mid Century Modern Dresser: Handmade Furniture With FSC Certified Hardwood
by Markus James on Sep 04, 2023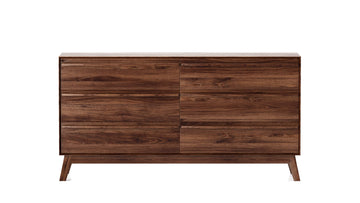 What to look for in a Mid Century Modern Dresser; A buyers Guide. 
Ah, the quest for the perfect Mid Century Modern Dresser—it's almost like dating. You know what you want, but finding "the one" can be an overwhelming process. Not to worry, this comprehensive buyer's guide will hold your hand through each step. By the end, you'll be more than ready to make an educated decision that both you and your spouse will cherish for years to come. 
Timeless Appeal Meets Modern Sophistication
Mid Century Modern Dressers are the epitome of aesthetic durability. With sleek lines, functional design, and a touch of vintage charm, they effortlessly slide into contemporary settings. And let's be honest, a good dresser is like a devoted spouse: supportive, reliable, and always there when you need them.
Quality Matters: Materials and Craftsmanship, What to look for.
Key Features to Recognize
It's easy to get swept up in the excitement of something that looks great. However, well made mid century Modern dressers have distinct characteristics—Handmade, Solid Hardwood, and FSC certified to name a few. If your prospective dresser lacks these, it might be time to swipe left and keep looking.
The Allure of FSC Certified Hardwood
An essential thing to check when eyeing that gorgeous dresser is the material. Opting for FSC Certified Hardwood not only assures quality but also signals that you're investing in a sustainable future. Trust is paramount, especially when it concerns the environment.
Why Handmade Is the Way to Go
Handmade furniture speaks a language that mass-produced items can't. Each cut, joint, and finish tells a story of dedication and skill. It's a personal touch that makes your dresser more than just a furniture piece, transforming it into an heirloom that is built with the sole purpose of being made to last, from the best materials. 
Undermount Slides and Soft Close Slides—The Unsung Heroes
While the design and wood type often steal the show, it's crucial not to overlook the slide mechanisms in your dresser drawers. Opt for high-quality undermount slides or soft-close slides to ensure an effortlessly smooth and near-silent drawer operation. These slides are mounted beneath the drawer, allowing for a clean look that fully showcases the beauty of the FSC Certified Hardwood.
Brands like Blum and KVM are the go-to for premium slide mechanisms. Unlike cheaper, Chinese-made slides often manufactured from inferior materials, these companies prioritize durability and functionality. Investing in superior slides is a subtle but effective way to elevate your entire dresser experience. When you pull out a drawer and it glides smoothly, you'll be reminded that you made the right choice.
Solid Wood vs. MDF: The Eternal Debate
When it comes to the drawer construction, you generally have two choices: solid wood or Medium Density Fiberboard (MDF). Solid wood drawers, often made from FSC Certified Hardwood, offer superior durability, strength, and aesthetic appeal. MDF, although cost-effective, lacks the sturdiness and rich texture that solid wood offers. When you opt for solid wood, you're not just choosing a material; you're choosing longevity and beauty.
Dovetail Drawer Boxes
The way your drawer boxes are constructed is another crucial factor. Dovetail drawer boxes are considered the gold standard in furniture construction. This age-old technique involves interlocking pieces of wood to provide a joint that is robust and can withstand years of use. Brad nailed drawer fronts, on the other hand, offer less durability as they are simply tacked onto the drawer box. In short, dovetailing is to dresser drawers what a strong, supportive spouse is to a happy, enduring marriage—absolutely essential.
Your Must-Have Checklist for a Mid Century Modern Dresser
To simplify your shopping experience, here's a quick checklist to ensure your dresser ticks all the right boxes:
High-Quality Drawer Slides: Opt for premium undermount or soft-close slides from trusted brands like Blum or KVM.
Solid Wood Construction: Choose FSC Certified Hardwood for durability and aesthetics, steering clear of MDF whenever possible.
Dovetail Drawer Boxes: Make sure the drawers are constructed using the dovetailing technique for robustness and long-lasting use, as opposed to brad nailed fronts.
Timeless Design: Aim for a dresser that embodies the classic elements of Mid Century Modern design to ensure it stays in vogue for years to come.
FSC Certified Hardwood: Always ensure that the wood used in your dresser is sustainably sourced and certified, prioritizing eco-friendly choices.
Country of Manufacture: Choose furniture that is made in the U.S. for quality assurance and to support local craftsmanship.
Keep this checklist at hand, and you and your spouse are sure to find a dresser that's not just a storage solution but a lifelong investment.
Choosing a Dresser is More Than Skin Deep
Shopping for a Mid Century Modern Dresser is a nuanced, multi-layered process that goes well beyond mere aesthetics. It's not just about the external beauty, the gleaming finishes, or the era-specific design. It's a careful balance of form and function, a symbiosis of external allure and internal mechanics. Companies like Blum or KVM are often the invisible heroes behind those smooth-gliding, soft-closing drawers that add a touch of luxury to everyday use.
The quality of the wood is another key consideration. Opting for FSC Certified Hardwood ensures that you're investing in a piece that is both durable and sustainably sourced, giving you peace of mind. You'll also want to consider the craftsmanship that goes into the piece. Does the artisan have a wealth of experience and expertise? Are the drawer boxes dovetailed for extra strength, or are they merely brad nailed? These seemingly minor details can significantly impact the longevity and functionality of your dresser.
But perhaps most important of all is the trust factor. When you bring a piece of furniture into your home, you're also bringing it into your life and into the relationship you share with your spouse. You want something that will stand the test of time, much like a strong and sturdy marriage. So don't merely 'shop'—invest. Invest in a dresser that will not only meet your storage needs but will also serve as a testament to your excellent taste and values.
So go ahead, take the plunge. Your new dresser, equipped with top-notch slides and crafted from the finest hardwood, will not only be a practical addition to your home but also a testament to your commitment to quality and sustainability.