Blog
Top-Notch Craftsmanship: Unveiling the Best Custom Cabinets and Premier Cabinet Makers in Cleveland for 2023-2024
by Robert William on Oct 19, 2023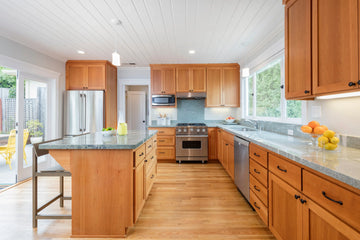 Tailoring Dreams into Reality: The MODERNCRE8VE Approach to Custom Cabinetry
Tailoring Dreams into Reality: The MODERNCRE8VE Approach to Custom Cabinetry
At MODERNCRE8VE, we are not just crafting cabinets; we are tailoring dreams into reality. Our custom cabinetry service in Cleveland stands apart, distinguished by a trifecta of superior craftsmanship, innovative design, and exquisite materials.
Crafting Modern and European-Styled Kitchens
Our expertise lies in molding modern and European-styled kitchens that echo contemporary elegance yet remain rooted in functionality. Our designs, infused with clean lines and the finest European-inspired materials, transcend ordinary cabinetry, offering you a unique blend of aesthetics and utility.
Client's Vision
Design Consultation
Material Selection
Craftsmanship
Quality Assurance
Your Dream Kitchen
Unveiling Artistry in Wood
Our team of Amish craftsmen bring to the table an unparalleled dedication and generations of woodworking expertise. Every cut of the blade, every contour sanded is a testament to their artistry, ensuring each piece of cabinetry is not just functional but an enduring work of art.
Your Vision, Our Blueprint
We don't just build cabinets; we build relationships. Our journey begins with understanding your vision, which becomes the blueprint for our design. Through a collaborative process, we ensure the final product is a reflection of your taste, a piece of art that enhances the aura of your living space. Learn more Here:
Exploring Other Custom Cabinetry Providers in Cleveland.
While MODERNCRE8VE holds a distinguished place in the realm of custom cabinetry in Cleveland, it's essential to acknowledge other reputable craftsmen in the area. Here, we present two of Cleveland's premier custom cabinet makers, each with a unique approach to cabinetry:
Lane 17 prides itself on being Cleveland's premier custom cabinet makers since 2016. They focus on delivering high-quality cabinetry with a touch of modernity. Their made-to-order approach ensures that every cabinet is tailored to meet the unique needs of each client, redefining the standard with endless organizational options and modern finish selections.
With over five years of dedicated service, Cleveland Cabinets has been a go-to source for top-quality cabinets in the area. Their approach ensures a blend of high-quality cabinets and excellent customer service, promising a timeless feel that upgrades your space for years to come.
These establishments, along with MODERNCRE8VE, contribute to making Cleveland a hub for exceptional custom cabinetry. Each brings a unique flavor of design, craftsmanship, and customer-centric services, enriching the local market with a variety of choices for those looking to transform their spaces with custom cabinets.