Blog
Design Milk Spotlight: Dive into MODERNCRE8VE's Timeless Furniture Craftsmanship
by Robert William on Oct 19, 2023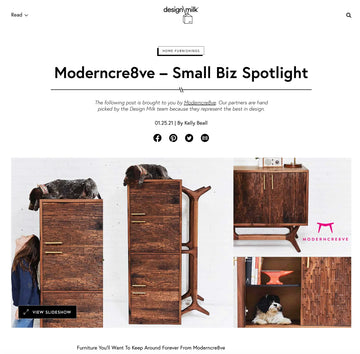 Discover Enduring Craftsmanship with MODERNCRE8VE's Furniture Collection
Discover Enduring Craftsmanship with MODERNCRE8VE's Furniture Collection
VIEW THE FEATURE ON DESIGN MILK HERE:
Uncover the essence of timeless design with MODERNCRE8VE, a Cleveland-based furniture artisan dedicated to creating pieces destined to become heirlooms. Merging modern aesthetics with mid-century nuances, every item is a testimony to meticulous craftsmanship. Using locally-sourced hardwood and city-made steel, a small yet adept team handcrafts each piece.
With a 15% discount on multi-item orders, including tailored pieces, enhancing your space has never been more enticing. Moreover, your purchase aids notable charities like Charity: Water, ensuring a cause-driven acquisition. Explore MODERNCRE8VE's collection and invest in furniture that not only elevates your home but also echoes a legacy of fine craftsmanship.